Before displacement and before the Israeli unlawful occupation, people had the freedom of choice! The reader feels displaced in time, place, and theme through a narrative that describes Palestine as it used to be; Palestine that we see in old albums, not the one we see in the news! Palestine's history is based on memory. Let us not forget then! Yazan Abu- Hijleh has no intention of forgetting his past, as he re-narrates his grandfather's story.
Yazan Najeh Abu Hijleh is Carnegie Mellon sophomore in Information Systems, and is pursuing a minor in History.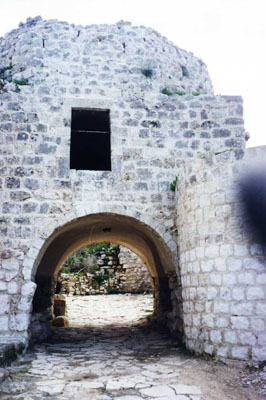 "Pfffffffffffft, this one is too far from home" My sister walks in, slamming the door to the house behind her. She has just come back from an interview for a job she had been interested in. She throws her designer purse on the table in front of me and Grandfather, and sits down opposite to him. We have been talking about how things were in Jordan, as he was only visiting us for a couple of weeks. He says, "Wi'am, you shouldn't be picky if you are looking for a job. You've turned down offers for good jobs that others would gladly take, given the current economic situation. You should know how people used to work when I was your age."
You need to know why you are working, Wi'am. When I took my first job, I was the son of a wealthy landlord in Dayr Istia. I had just married at the time but I still could've had lived off of my father's land. I could have been the stereotypical wealthy son that squanders his father's money, because Abu Hijleh's olive field stretched as far as the eye can see. However, I decided to work for the roof over my head and food on my table, and started to look for a job. I wanted to be an independent man, but more importantly, I wanted to benefit the world around me. When I started working, it was 1944, and the world had just come out of a major war. I thought that with my extensive and costly education, I would get my chance to give back to the world.
Even though I had the intention and education to work in Nablus, it was impossible to find proper transport and living arrangements. Nablus was the nearest city to Dayr Istia, and it is twenty five kilometers away if you take the main roads of today. We lived in an agricultural village and had not felt the aftermath of the Second World War as those in the cities have. Outside Nablus, the railways had been bombed and imports ceased. I could not find transportation from home to the cities, even though my education meant I would get an important job. I couldn't even work in my hometown. Although I had the skills to work many jobs, Dayr Istia was so small that I could only be a teacher and they were fully staffed. So I accepted what I could find and worked in nearby villages, such as Azun, Qalqilya, which were on main roads to the east. If I could not work there, I would work in Dayr Balut, which is south of Dayr Istia.
Working was more than teaching the students at school, because walking to work almost became a job itself. Since motorized transport was not as available as it is today, I had to rely on busses and hitchhiking to get to work or home, and walking when I couldn't find a faster way to go where I need to. If I was lucky, a farmer with a donkey cart would pick me up and drop me off at home. Otherwise, the walking took as much as five hours, although I admit I enjoyed the beautiful scenery on my way. The several kilometer treks to work felt like a stroll in Eden. In the Springs I spent there, I often took detours to walk through fields of lemon and orange trees, the colorful fruit adding much needed variety to my boring walks. The olive trees stood out the most, their evergreen species outlasting the others in the winter, and bringing a heavy return if the rain was plentiful. Even though my little excursions brightened up my days, I often had to stay at a village for several days at time due to unreliable transportation or bad weather. As such, I could only see my family for a weekend at most before going back to work.
My frequent travel also meant I had more exposure to the world than the typical wealthy heir at the time, if there was such a thing. I often asked for directions and visited new places, either by losing my way or as part of my detours. At first, it seemed strange to see many women working on farmland. Since I was sheltered, it was not obvious to me that in a typical family, everyone must do their share of the work. My father only hired men to tend his lands because he thought they were stronger, but farming families had no such choices. All of this was very new to me, someone who hadn't felt the consequences of life, and I became interested in people who lived very different lives than I had. I began to see that in the villages, although I only stayed briefly, everyone had found a way to fit in, and nothing was left to waste. The harvest of the year's olive trees would be ground up in a juicer, its oil used for food and medicine and the remaining paste used in making soaps. Likewise, milk from goats and cows was made into cheese, their hides into clothes and their meat into food. On the roads, I met many others who work in-between villages. I even met people transporting fruits such as figs and pomegranates into markets in the cities, and they told me about where they come from in Palestine. I learnt what I know about different parts of Palestine not from books or television, but from people who lived there. I felt more with my country than ever before. Ironically, I had learned what a home truly means by leaving my hometown and family.
Today, you young ones might have many choices for a job, and end up getting picky about small things, such as the job being 5 minutes further than the other one or having a somewhat lower salary than you expect. I did not have the choices I wanted, but I accepted what was offered. You do not have worry about not seeing your family for days at a time because you have a car. But what I went through is not the point. You should take the job because of its meaning to you, not because of minor differences in location or salary, because having a job and taking responsibility of your life teach you many things.
My sister says, "You had to walk all that, just to get to work?" My Grandfather is pointing on an old, yellowed map of Palestine that has the names of towns in Arabic calligraphy. He is tracing out his travels on it as he speaks about whose farms he had passed and information about those people. My sister picks up her purse and stands up. On her way out of the room, she says over her shoulder, "Pfffffffffffft! What a waste! You could have lived your life anyway you wanted".